Morse als communicatiemiddel
Morsecode is een methode om tekstuele informatie te coderen als aan-uitsignalen. Het werd ontwikkeld door Samuel Morse en Alfred Vail in de jaren 1830 en 1840 en speelde een belangrijke rol in langeafstandscommunicatie voordat moderne telecommunicatietechnologieën opkwamen. Hoewel het niet langer vereist is voor amateurradiolicenties, blijft het populair vanwege de eenvoud, efficiëntie en historische betekenis.
Luister hieronder naar Morse, en stel de snelheid in.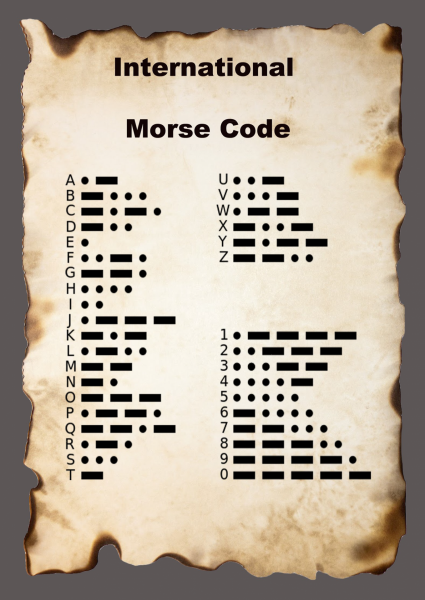 ON8WR en ON4AFW op expeditie, en CW (Morse) vanop het Marconi punt, Isle of Wight.
Guglielmo Marconi begon met experimenteren met radiogolven nadat Maxwell en Hertz hun theorieën over elektromagnetisme hadden ontwikkeld. Hij gebruikte een vonkgenerator als zender, een coherer als ontvanger en zijn eigen ontworpen antennes. Na verschillende experimenten slaagde hij erin afstanden van meer dan 2 kilometer te overbruggen.
Marconi maakte gebruik van de morsecode die Samuel Morse eerder had ontworpen voor telegrafiecommunicatie. Door zijn vonkzender in en uit te schakelen met een seinsleutel, kon hij draadloze communicatie tot stand brengen.
Marconi verhuisde naar Engeland in 1896 en verkreeg later dat jaar 's werelds eerste octrooi voor zijn draadloze telegrafiesysteem, met steun van Preece en zijn neef.
Hij zette zijn experimenten voort in Engeland en slaagde er in 1898 in om een afstand van 30 km te overbruggen, van het Needles Hotel op het Isle of Wight naar het Harbour Hotel in Pool. Op 12 december 1901 ontving hij de eerste draadloze trans-Atlantische verbinding via een antenne op Signal Hill in St. John's, Newfoundland. Het signaal werd verzonden vanuit Poldhu in Cornwall, Engeland.